During Friday's morning commute, excessive rainfall led to flooding, resulting in closed roads, disrupted subway service, and flooded basements in the New York City area. The situation was deemed "dangerous and life-threatening" due to the overwhelming amount of water that inundated the concrete landscape.
In a span of only three hours on Friday morning, parts of Brooklyn received more than 4 inches of rain, which is equivalent to the amount of rainfall in an entire month. The New York tri-state area experienced intense rainfall rates of 1 to 2 inches per hour during this time.
As heavy rain and flooding continue to wreak havoc in New York City, travelers are experiencing significant delays at airports. It's crucial to keep track of any delays or cancellations to avoid any inconvenience.
Late Friday morning saw a reduction in the intensity of the heaviest rainfall across the severely affected areas of Manhattan and Brooklyn. However, there is a possibility of another round of rainfall in the afternoon, which can cause a resurgence of hazardous flooding.
During a news briefing on Friday morning, New York City Mayor Eric Adams cautioned that the dangerous weather conditions were not over despite gaps in heavy rain. "I don't want those gaps in heavy rain to give the appearance that it is over, it is not," he emphasized.
Currently unfolding:
New York Gov. Kathy Hochul declared a state of emergency for the New York City area as torrential rain floods roads, basements and subways
The National Weather Service warned of a "considerable" flash flood damage threat across New York City
"Water on the tracks" suspended subway service for multiple lines in Brooklyn and Metro-North trains
The weather forced the closure of a LaGuardia International Airport terminal as flight delays mounted
8.5 million people were under flash flood warnings in the New York City area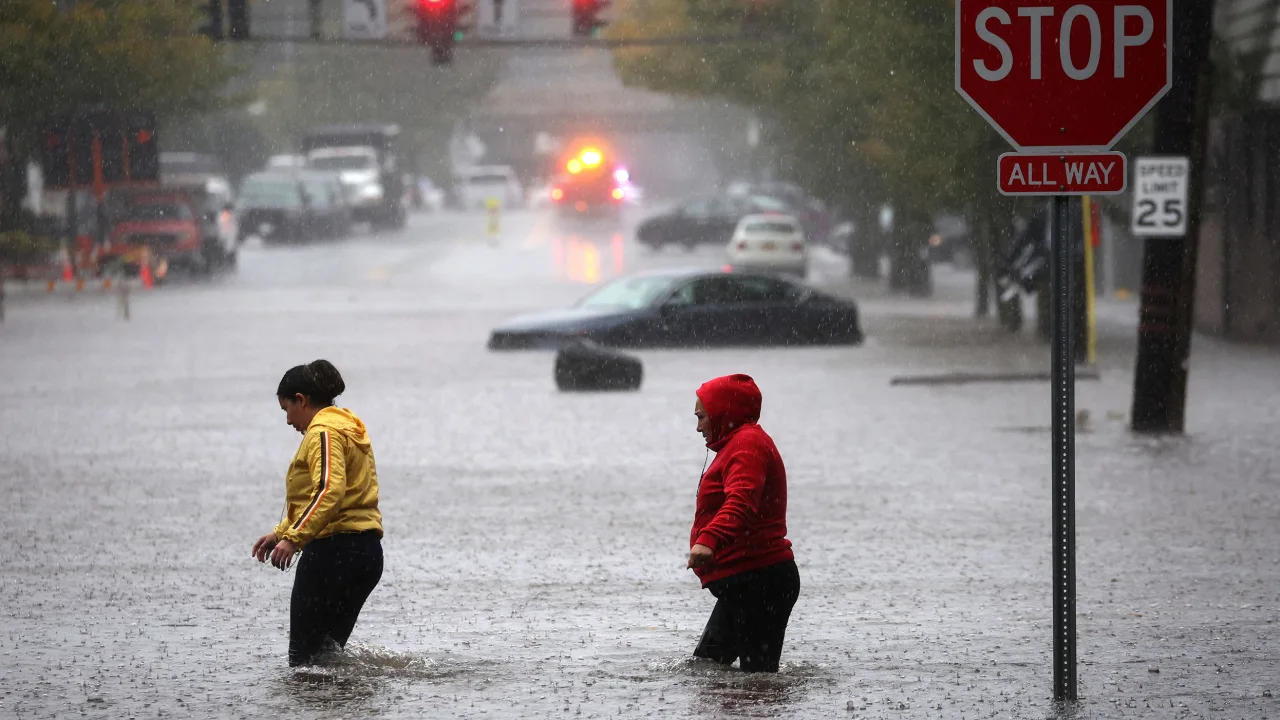 On Friday morning, Governor Kathy Hochul of New York declared a state of emergency for New York City, Long Island, and the Hudson Valley. In an interview with New York's WNBC-TV, she emphasized the importance of staying home due to the hazardous travel conditions prevalent in the area.
Hochul emphasized the severity of the weather event, stating that it is a significant challenge and a threat to people's lives. She urged all New Yorkers to take this warning seriously in order to ensure their safety.
Major flooding in Brooklyn today. It's crazy out here. Everyone stay home and be safe. #brooklynflooding pic.twitter.com/LGKK9BTwSV

— shaone (@shaonedon) September 29, 2023
The subway service experienced "major disruptions" due to floodwater overflowing into subways and railways. This resulted in the closure of nine train lines in Brooklyn and all three Metro-North train lines.
On Friday morning, New York City emergency management reported a surge of water that flooded basements, overwhelmed sewers, and flooded roads in Brooklyn, Manhattan, Queens, and Hoboken, New Jersey. This led to road closures and water rescues by authorities in the affected areas.
Air travel was also experiencing difficulties, with flooding at New York's LaGuardia airport preventing ground crews from accessing certain areas of the airport's ramps. Although there were few flight cancellations as of Friday morning, delays were rapidly increasing due to the closure of Terminal A, the airport's smallest terminal.
Early Friday, the National Weather Service office in the New York and New Jersey region reported that over 8.5 million individuals were under flash flood warnings. The warning area had already received a significant amount of rainfall, with 1 to 2 inches since midnight and more expected to come.
On Friday morning, the weather service issued alerts to millions of New Yorkers, cautioning them of a "dangerous and life-threatening situation" due to a significant risk of flash flood damage.
According to the weather service, John F. Kennedy International Airport in Queens received a staggering 1.19 inches of rain within an hour early on Friday. As of 10 a.m., the airport had already recorded more than 4 inches of rainfall since midnight.
According to the National Weather Service, the flood threat will affect approximately 25 million people in the Northeast on Friday. The New York tri-state area is particularly at risk, with a Level 3 out of 4 "moderate" warning for flash flooding.
New York City officials have issued a travel advisory starting at 4 a.m. Friday through 6 a.m. ET Saturday due to the urban flood threat. The morning commute is expected to face potentially "widespread travel impacts." The MTA has taken measures to prepare, including installing drain covers and deploying pump trains. Crews will also be sent to strategic locations throughout the transit system.
According to NYC Emergency Management Commissioner Zach Iscol, New Yorkers should brace themselves for heavy rainfall and possible flooding on Friday and Saturday morning. Iscol emphasized the importance of caution, advising all citizens to prepare accordingly. For those who need to travel, he suggests taking public transportation and factoring in additional travel time. If driving is unavoidable, Iscol warns against entering flooded roads.
The regions from Central New Jersey northward to Manhattan, Long Island in New York, and southern Connecticut, as well as the Hudson Valley, are anticipated to receive the most considerable amount of rainfall.
As for the nearby cities, Philadelphia and Boston may experience a downpour of up to 2 inches of rain, while Hartford could accumulate 3 inches or more. The anticipated rainfall amounts are between 2 and 4 inches in most areas, possibly reaching 5 to 8 inches in certain regions.
Emergency in nyc pic.twitter.com/oNl1idC937

— EveryThing Plus ULTRA (@EveryTPlusULTRA) September 29, 2023
The heavy rainfall in this area has resulted in exceptionally high levels of precipitation.
In Brooklyn: A month's worth of rain, up to 4.5 inches, fell in only 3 hours on Friday morning, according to National Weather Service data. This three-hour rainfall total is only expected about once every 100 years in Brooklyn, according to NOAA estimates.
In Manhattan: Nearly 2 inches of rain fell in one hour in Central Park, the second-wettest hour there in 80 years. More than 5 inches of rain have fallen there so far.
In Queens: It's a top-10 wettest day at John F. Kennedy International Airport, where more than 4 inches of rain has fallen since midnight.
Southern Brooklyn is flooded, please head warnings. Many local roads not passable! ⁦@NWSNewYorkNY⁩ pic.twitter.com/va4FXnpoyP

— Mike_W 🇺🇸🤝🇮🇱 (@WeinbergerMike1) September 29, 2023