Couple Derek Hough and Hayley Erbert Get Married In Forest Wedding
Derek Hough, 38, and Hayley Erbert, 28, have tied the knot and are now officially married! The stunning couple exchanged their vows in Monterey County, California on August 26th, in the presence of 106 guests. Their wedding photo was exclusively revealed to PEOPLE, and the couple also shared the same on their Instagram pages.
Hayley shared with the outlet that their wedding took place in a redwood forest, with the ceremony taking place right in front of a mother tree, surrounded by smaller trees. She explained that these trees drop seeds, which then grow into an army of children to protect the mother tree, making the symbolism of the location especially meaningful. Hayley and her partner feel that they are planting their own seeds to grow their family, making the location even more poignant for their special day.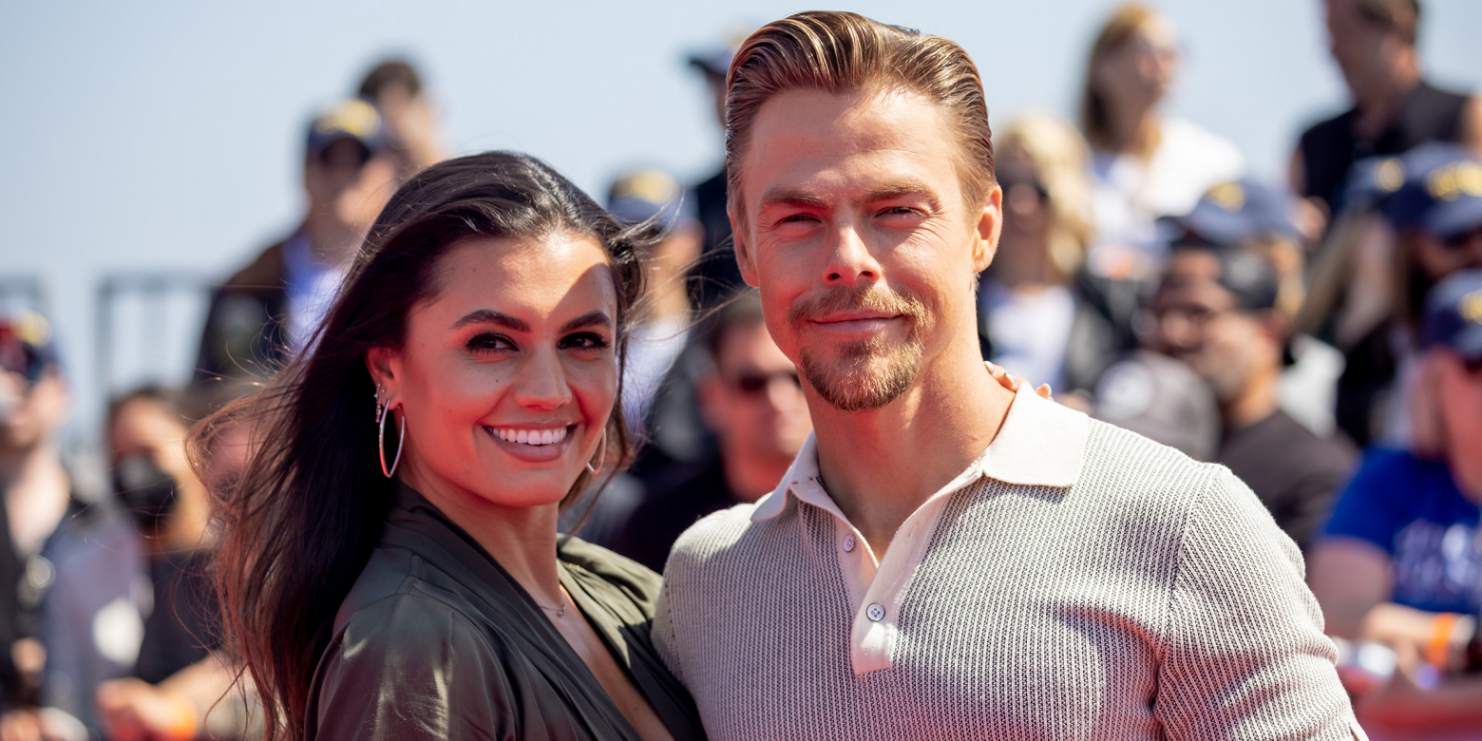 At their ceremony, Derek and Hayley shared both personal and traditional vows. Hayley looked stunning in a beautiful custom-designed wedding gown created by Georgina Chapman from Marchesa. As she walked down the aisle, a special rendition of Richard Walters' "Unconditional," which the singer had rewritten and recorded specifically for the couple, played in the background. Derek, who is a judge on DWTS, looked sharp in a stylish Tom Ford suit for the ceremony.
The newlywed couple chose to celebrate their wedding reception in a charming 100-year-old barn. Notable personalities who graced the occasion included Jenna Johnson, Shawn Johnson, Nina Dobrev, Shaun White, Alfonso Ribeiro, Freida Pinto, Amy Purdy, Robert, and Kym Hejavec. Of course, Julianne Hough, a close friend of the couple, was also present to share in their joyous celebration.
In 2014, during Derek and Julianne's MOVE Live Tour, two talented dancers, Derek and Hayley, had the opportunity to meet. Fate brought them together once again when Hayley was selected to be a part of the season 21 troupe of the popular TV show, Dancing with the Stars. That season turned out to be another successful one for Derek, who partnered with the talented Bindi Irwin. While their romance had already blossomed, it wasn't until 2017 that Derek and Hayley decided to make their relationship public.
In June 2022, Derek Hough and Hayley Erbert, who had been dating for seven years, got engaged. In a stunning photo of the proposal, Derek wrote, "It's only the beginning…the beginning of forever." Their engagement marks the start of a new chapter in their long-term relationship.
In a recent interview with HollywoodLife, Troy Williams, the mastermind behind Derek Hough and Hayley Erbert's heartwarming proposal, shared exclusive details about the behind-the-scenes work that went into creating the magical moment. Williams is the founder of Simply Troy Lifestyle + Events and was responsible for designing and bringing the proposal to life. He expressed his pride in the final result and his affection for the couple. Williams revealed that the proposal took place in the couple's living room, making it all the more intimate and special.
Read More: The Summer I Turned Pretty Season 3 Confirmed: Update On Release Date, Cast, Trailer
Troy recently shared some interesting details about Derek's proposal to the love of his life. According to Troy, the proposal actually happened on May 23, which was almost two weeks before the couple publicly announced their engagement on June 2. Derek had planned an intimate surprise proposal in their living room with 250 candles, which Troy found to be incredibly touching. It's always fascinating to learn the behind-the-scenes details of a proposal, and this one sounds truly romantic.
Troy, who was present at the time, shared that Derek wasted no time in proposing as soon as they entered the venue. The heartwarming moment was beautifully captured by Anée Atelier, a talented photographer based in New York City. Derek chose a stunning oval diamond from Paris Jewelers, a Canadian jeweler, to ask Hayley to be his life partner.
Read More: Like Monica, Courtney Cox Spoofs 'Friends' In Reel Revealing Secret Closet