Police Seize Firearms, Porsche, and $138K in Cash from Four Virginia Men in Drug Bust
Fairfax County police have stated that Matthew Powers, aged 33 and hailing from Alexandria, along with Mondell Opoku, aged 32 and from Woodbridge, Andres Blanco, aged 27 and from Clinton, MD, and Ali Banihashemi, aged 32 and from Burke, have been charged with a range of drug offences and other related charges.
According to authorities, an inquiry was initiated in March 2023 after receiving a tip about a drug distribution network in the Mount Vernon District involving the four individuals.
According to police reports, the illegal operation was associated with the seizure of two powerful drugs, Psilocybin and LSD. In addition, law enforcement authorities confiscated a significant amount of cash, totalling over $138,000, along with a luxurious Porsche SUV. During the raid, police discovered multiple bank accounts and valuable jewellery, adding to the list of seized items.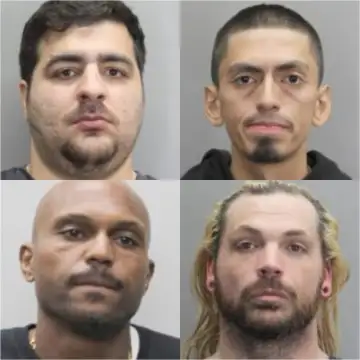 According to officials, the drugs were valued at several hundred thousand dollars on the street.
Also Read: