Teacher accused of raping a student in her home: "It's unspeakable"
A Tennessee educator has been arrested and charged with raping a boy in her home in 2021. According to authorities, she is also accused of sexual misconduct with "multiple juveniles."
Alissa McCommon, 38, of Covington, was arrested on Friday, according to the Covington Police Department, after allegations of inappropriate contact with children under 18.
The Tennessee Department of Children's Services contacted the police last month regarding allegations of sexual misconduct involving a teacher and a former student. McCommon, a teacher at Challenger Academy, was suspended without pay on August 24 after a parent made allegations of abuse, according to WREG-TV, an affiliate of CBS.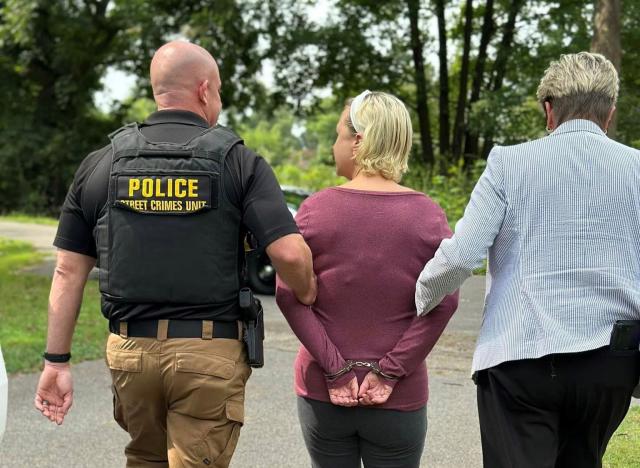 After that, "multiple juvenile victims" reported that they became friends with their former teacher, began playing video games with her, and interacted with her on social media, according to police.
Police claim that McCommon then "sent inappropriate photographs and requested sexual relations with the victims."
According to WREG, McCommon is accused of having a sexual encounter with a boy aged 12 or younger at her home in 2021. The allegation comes from Covington Police Chief Donna Turner.
Turner said in a statement that Covington Police Department detectives continue to investigate these young boys' horrific exploitation and abuse. "We anticipate developing the investigation to determine the accountability of other adults involved in the case, including those who were aware of the abuse and those who permitted or provided locations for such illegal acts to occur."
There was no evidence, according to the authorities, that any of the alleged activities occurred on any school campus. During the investigation, McCommon admitted inappropriately communicating with former students, according to police.
"It's intolerable. It is incomprehensible and entirely preventable. According to WREG, Turner said, "I believe this is why the detectives and I are so passionate about ensuring victims are safe."
McCommon's attorneys were quoted by WREG-TV as maintaining her innocence.
"We believe it borders on a witch hunt on social media, which is frustrating," said defence attorney Jere Mason. "We ask that the public be patient and allow the justice system to do its job without further persecuting either the alleged victims or the defendant's family."
Child rape charges were filed against McCommon, who was held on a $25,000 bond. On October 13, she is scheduled to appear in court. Child rape charges were filed against McCommon, who was born on a $25,000 bond. The Police Department of Covington The Tipton County Sheriff's Office confirmed that it was collaborating with the Covington Police Department and continued to collect evidence.
"Remember, although we work for the public and our citizens, victims are our top priority," the sheriff's office said. "I assure you that we are conducting a thorough investigation and carrying out the necessary procedure."
Also Read: